Home
About
Portraits
Weddings
Event / Sports
Animal / Insect
Nature & Misc
Landscape / Scenic
Mount St Helens
NOTE: Internet previews do not represent the high-quality product you will receive. I haven't adjusted any of the photos. They are as-shot without any tonal adjustments nor cropping for composition and/or effect. Please don't hesitate sending me an email if you'd like to see an adjusted (and much clearer) version of any photo(s).

I had to greatly reduce each sample photo's quality & size to meet storage and bandwidth requirements. So if you can't make-out a riders number in the samples, or if you'd like to know if I have photos of a particular rider - Just drop me an email at: shawn@fzrphotography.com
This site is best viewed at 1024 x 768 or higher screen resolutions and 24-bit colors (millions of colors)
( Use your "F11" key to toggle between "Full Screen View" for a better viewing experience! )
---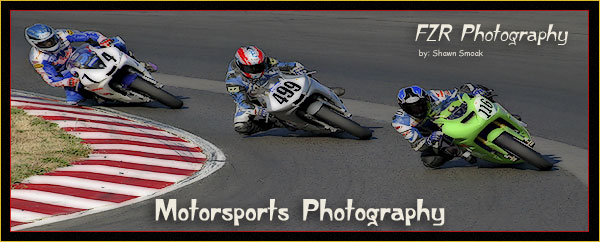 ---
Click Here to Order Prints & CD's
Ordering FAQ
Don't Like Ordering On-Line? - Click here for a printable Purchase Order.
(For Check Orders Only)
Tips on Printing Order Form
---
IMPORTANT NOTICE ABOUT COPYRIGHT PROTECTION

The Copyright Act protects photographers by giving the author of the photograph the exclusive right to reproduce your photographs. This includes the right to control the making of copies.

It is illegal to copy, scan, or reproduce these photographs elsewhere without our permission, and violators of this Federal Law will be subject to its civil and criminal penalties.

We will try to accommodate all reasonable requests. Please feel free to discuss your needs with us so that we may have the opportunity to serve you better.

More information on copyrights and laws to protect photographers can be found at the U.S. Copyright Office web site.
---
Pay securely with any major credit card or personal check through PayPal!
---
---
Shawn Smoak shawn@fzrphotography.com.
Copyright © 2002 ~ 2014 by [FZR Photography]. All rights reserved.