Home
About
Portraits
Weddings
Event / Sports
Animal / Insect
Nature & Misc
Landscape / Scenic
Mount St Helens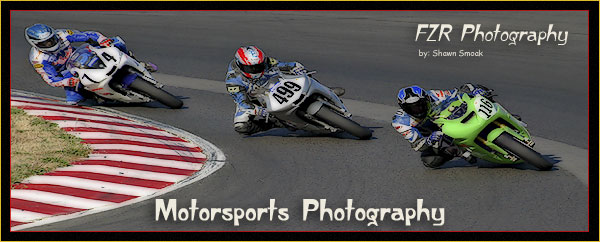 ---
Welcome to the Sports Events section of FZR Photography.
Quality Photography, specializing in Motorsports, Auto Racing, Motocross, Quad Racing, Road Racing, Extreme Sports and all School Sports.
In most cases, prints will be available on-site during an event. If not available on-site, or if requested, I'll post a few randomly selected samples from the event on this page. Links to the events will be listed by name in the navigation buttons above. NOTE: I only select a few of the photos (randomly) for the site because I would have to degrade the photos even more than the already embarrassing levels they are now for web display. The quality gets so low that it's hard to make out faces and numbers. Plus, it can get frustrating to flip through hundreds of photos trying to find someone! Don't panic if you don't see who your looking for, just drop me an email with the name & number, and I'll send you samples of what I have.
Prints are available from all events, whether available on-site or web only. If you wish to inquire or purchase an event photo that you don't find on the web site, send me an email and I'll get back with you ASAP.
All events photographed will be available on CD-ROM's that can be viewed on any PC or Mac computers and on DVD movie players.

---

FZR Photography
~ Professional Photography for any Occasion ~
| | | |
| --- | --- | --- |
| - Weddings and Receptions | - Engagement Photographs | - Honeymoon Portraits |
| - Family Portraits | - Vacation Portraits | - Family Reunions, Parties and Gatherings |
| - Corporate Functions | - Conferences and Seminars | - Holiday Parties and Banquets |
| - Senior Pictures | - Class Portraits | - School Outings and Functions |
| - Real Estate Photographs | - Property Assessment and Appraisals | - Rental Property pictures for online use |
| - Marketing pictures for print or web | - Landscape and Wildlife pictures | - Artistic and Photojournalistic photographs |
| - Stock Photography | - Travel Photographs | - Activity and Tour Promotion Photos |
---

Hire a Personal Photographer.
If your son, daughter, or team needs portfolio work done, I am available for hire on a one-on-one basis. For $195 dollars I will personally photograph a player/rider of your choice during an event or race. At the end of the session you will receive a high quality CD-ROM. Photos will include numerous actions shots, portraits, and various other images depicting the player/rider in a professional setting. The number of images per disc may very, but usually average 200 ~ 300 or more.

Depending on the event, I have the ability to take hundreds of action shots of the player/rider. Shots that can include on field/track action from various angles and positions, posed portraits, P.R. images, sponsor shots, or what ever your needs may require. At the end of a session, it's possible to have several hundred professional looking images that can be used in any way that you may require.

The images will be burned onto a high resolution CD-ROM compatible with PC's and Macs. The images will also be uploaded to a private on-line gallery for easier viewing and ordering of prints and CDís.
For those that prefer film, I'm also fully setup with professional 35mm equipment.

Should you have any questions or would like to book a session, please feel free to contact me.

Shawn Smoak - FZR Photography
Toledo, WA. 98591
360-560-3119
shawn@fzrphotography.com

---
Pay securely with any major credit card or personal check through PayPal!
---
---

Shawn Smoak shawn@fzrphotography.com.
Copyright © 2002 ~ 2014 by [FZR Photography]. All rights reserved.