Home
About
Portraits
Weddings
Event / Sports
Animal / Insect
Nature & Misc
Landscape / Scenic
Mount St Helens
Landscape & Scenic Photo Gallery:
"All too often we take for granted the places and things around us. My purpose as a photographer is not only to help the viewer appreciate the grandeur around us, but more importantly the little things that make our world unique. There is a great deal of beauty in the ordinary that surrounds us, as well as the grand vistas that capture our vision and imaginations. I only feel that Iíve succeeded when I have challenged the viewer to look at our world with a new perspective."
Please enjoy the Landscape & Scenic Photo Gallery.
---
Play Flash Slide Show (2.5MB)
Click on thumbnails image below to view photos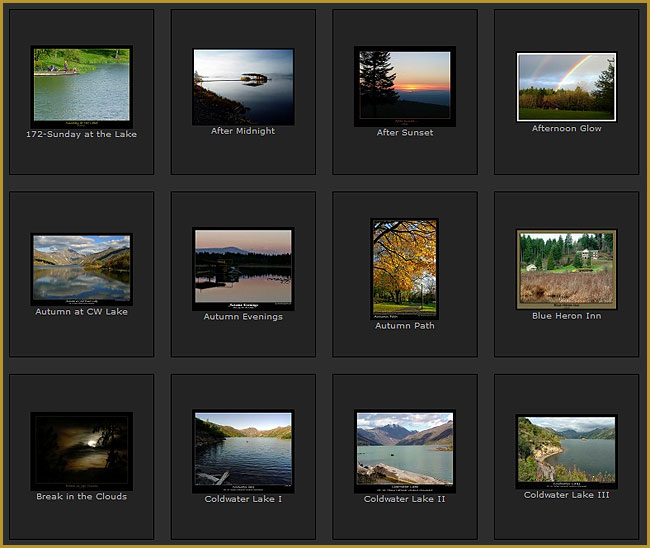 Click on thumbnails image above to view photos
Play Flash Slide Show (2.5MB)
---
Also have a look at the Mt St Helens gallery...
Pay securely with any major credit card or personal check through PayPal!
IMPORTANT NOTICE ABOUT COPYRIGHT PROTECTION

The Copyright Act protects photographers by giving the author of the photograph the exclusive right to reproduce your photographs. This includes the right to control the making of copies.

It is illegal to copy, scan, or reproduce these photographs elsewhere without our permission, and violators of this Federal Law will be subject to its civil and criminal penalties.

We will try to accommodate all reasonable requests. Please feel free to discuss your needs with us so that we may have the opportunity to serve you better.

More information on copyrights and laws to protect photographers can be found at the U.S. Copyright Office web site.

---

Shawn Smoak shawn@fzrphotography.com.
Copyright © 2002 ~ 2014 by [FZR Photography]. All rights reserved.